Here is the long and the short of it: I FINISHED!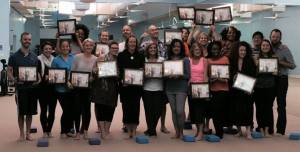 After eight weeks of work, (some) tears, plenty of sweat and, thankfully, an absence of blood, the Scorpions completed the 200-hour Certified Yoga Teacher program. Much love to my fellow students, our trainers and the loved ones who dealt with our absence for those weekends. Although I'm convinced the BF secretly loved the training program because he got to watch college and professional football undisturbed all weekend!
Now that I'm finished, I'm seeing friends, sleeping and enjoying life. Even though I'm not in a studio 12 hours a day, I'm still working on my (semi-) daily practice because that's the only way I'll grow and start sequencing series of my own. In yoga training, we studied more than 100 poses, which only scrapes the surface of the full range of yoga poses and the ways your body can express a posture, from beginner to advanced. Below are some of the poses I will be focusing on as I commit to a daily practice, deepening my range of motion and moving to a higher level of understanding.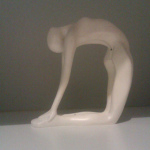 This pose gave me the blues for the longest time. I was making the mistake of thrusting my head back to reach for my feet without first learning how to open my chest and lift up out of the lower back. Best advice I got about Camel: Squeeze your glutes. Harder than you think, squeeze them, and press your hips forward. Use your inner thighs to stabilize and press into your shins.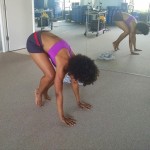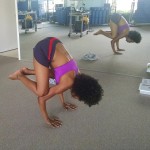 I have a confession. I've fallen out of Crow pose, onto my face, no fewer than two times. Since I have cat-like reflexes, I managed to get an arm in front of my face before it met the floor. The damage from embarrassment was done. As you can see from the photos below, I have some work to do before I can achieve two goals in this pose: knees in the armpits and straight arms. Again, this is why I practice. I'm excited to see the progress in this, since I have dated photos of where I have been.
Handstand (Adho Mukha Vrksasana)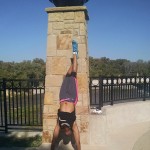 This is one of those lifetime goal poses for me. Inversions scare most of us – the thought of being upside down, supporting oneself completely, can be scary. Once I learned about the proper alignment, I stopped throwing my legs over my head. Best advice I've received: engage your mula bandha (root chakra). Using the muscles in the center of your body helps to align the body, engage the thighs and torso and stay centered in an upside down position. Next step for me is to find my center and balance without the use of a wall.
Now it's your turn: What is your challenge? Is it a specific posture? Finding an inspiring series? Tell me your favorite posture and how you're working it in practice.