When I recently had two people tell me that I was "blunt" and "told it straight," I had to make sure that they meant it in a good way. As a terribly blunt person during my late teens and early 20s, I used to wield the "truth" like a bludgeon. It was a defense mechanism left over from middle and high school, when I relied on an oversized personality to help me stand out. As I grew older, I started to recognize that what I might see as keeping it real and hard-core honesty, others just see as an attitude problem. (But also, totally agree with Amandla Stenberg's assertion that I'm not an "angry black woman" – sometimes you're just annoying and you should know that.)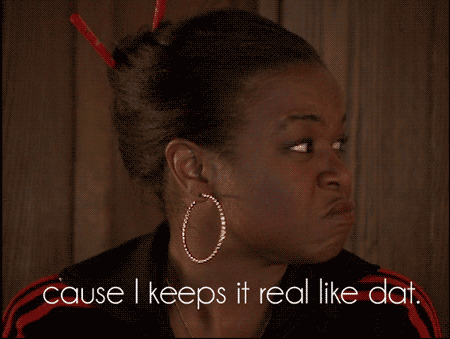 With age comes wisdom (or so they say), causing me to reevaluate how I approached situations that needed a healthy dose of criticism with a side of sensitivity.
One of the best stances I've learned to take started as a pact between me and my sister. With the distance of the Atlantic Ocean between us, she became my ear when I needed to talk things through, be it work or personal. Wonderfully, she always understood that not all people need your opinion. Sometimes, just hush up and listen.
Novel concept, right? Let someone talk, get the words out…and you just nod. That terrible boyfriend your cousin keeps going back to? She knows, somewhere inside, that it's a bad decision. You don't have to be the truth-teller and drop the Flex bomb of knowledge; she gets it. Let her talk it through. Your coworker who insists on taking two-hour lunches and then mysteriously needs to leave early? Other people see it; no need to be the office bullhorn and prognosticate about what he or she does on their super-sized break.
And for goodness sake, do not take it upon yourself to comment on people's weight gain or loss. Seriously, don't.
The second way I learned to navigate away blunt and rude to pragmatic: ask yourself "will this comment add to the conversation/situation?" 
To me, the true measure of a good conversation is succinctness and lack of filler. If you have to resort to being mean-spirited to contribute to a discussion, you should take a deeper look at what motivates you.
If you embrace being straightforward to the point of being blunt, don't pussyfoot around it. Beat around the bush and you run the risk of just appearing passive-aggressive. You think your opinions must be stated? Then be bold, speak loudly and say it with your chest (Thanks, Kevin Hart). Just don't be surprised if you get swatted down.
Don't get me wrong now. I encounter at least one-two situations per week in which my internal reaction is clapback, pure and simple. The impulse to jump quick is brief, and likely shows itself as a slight squinting of the eyes, or a tilt of the head similar to the confused RCA dog, as I try to make sense of what just happened. However, my self-control instinct and a desire to put out and/or receives the least amount of negative energy usually is enough to help me keep my lips sealed, pressed together in a semblance of a smile, as I give a noncommittal "Mm hmm."
Are you considered a blunt person, and if so, has it impacted your personal or professional relationships? Are you a reformed "tell it like it is" kind of friend?