Right before the recent Thanksgiving holiday, I posted a status that resonated with people who were due to see relatives and family friends that they only connect with once a year.
The best gift you can give family and friends today: be present. Turn your phone off, join in storytelling, ask questions & LISTEN.
We often talk about "being present" in yoga as a way for students to slow down their thinking, connect to their practice and connect their breathing to their body's movements. Even as a teacher, being present means I'm not thinking about what happened before I got there (traffic, deadlines at work, disagreements with family) or what I have to do later (cook dinner, write a blog post, return a phone call or email). In the moments, in the room, I'm fully committed to leading, demonstrating, making adjustments and connecting with the students.
One of the common ways we disconnect is by burying our faces in a smart phone or tablet. This is not a trait strictly reserved for my generation. Take a look up and down a city block during the morning commute, and you're more likely to see the tops of people's heads than you are their eyes, as we click, read and type on the go. I won't make a judgment call either way on this behavior, since I am guilty of it myself. Where I want to make a call-out is in breaking these habits when surrounded by loved ones, especially those whom we only see for a long weekend one or two times a year.
I get it: listening to Aunt Cathy and her endless stories about the infallibility of her children and cousin Charles and his get-rich-quick schemes can get old really quick. We all need a mental break sometimes, and it's easy to fall back on technology to provide entertainment. I want to challenge you to recognize that, though you may not be trying to, you're signaling to those around you a level of indifference to their presence, which can be hurtful. Instead of taking a backseat to the nattering, try the following tips to be truly present during the holiday season.
Barring any situation for which you have to be reachable, put your phone in another room, face-down.
That one relative that annoys you to no end? Ask them to tell you a story about the family history that you haven't heard. You'll learn something new about your clan and you get to direct the conversation away from that pyramid scheme they're always trying to get you to join.
If you're into wellness, try leading a small group in breathing and gentle stretching while everyone waits on the meal to be done (you know dinner won't start on time anyway). Not only are you sharing something that's important to you, it's a great way to get the kinks and knots from flying out of your shoulders and hips. Here are some great breathing tips from Yoga Journal.
Get away if you need to. Rather than demonstrate your boredom, take a break and get outdoors. This is especially helpful if your family is the passive-aggressive type that takes digs at each other. Remove yourself from the fray, take a treasured cousin or sibling with you if possible, and return ready to deal.
Finally, if your family is truly the worst and you're able to do so, skip the headache all together. Stay local and organize a holiday meal with friends, or use those long-overlooked vacation days and see what destinations your favorite airline is promoting. While the holidays can be a time of renewal and joy, they are what you make them. If taking time to be alone, hiking and biking the Colorado countryside or walking along the Miami shoreline, makes sense for you, do it.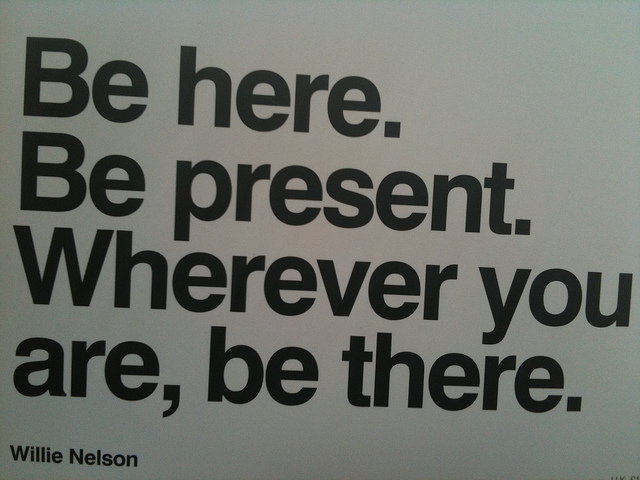 What other ways do you show that you're completely present in interactions with family and friends?