I've talked about how hard it is to stay on top of my own fitness. This weekend, I challenged myself to keep learning by attending one of Sunstone Academy's yoga workshops. (Full disclosure: I work for Sunstone part time as a teacher and I attended Sunstone Academy for my 200-hour Yoga Teacher Training.)
In the past few months, Sunstone has offered workshops on diet and nutrition with Dr. Sommer White. This weekend, the workshops focused on advancing one's yoga practice. Of the four available courses, I went to "The Art of Arm Balancing" on Saturday afternoon.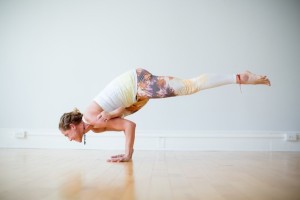 Y'all. I don't think I've challenged my body this much since…ever. The warm-up alone, as we found and engaged the entire core, had me sweating bullets. By the time the teacher, Lady Yoga, got us into our first arm balance (the ever-approachable Crow), I knew I was in for a major workout. As Lady Yoga explained, arm balancing is not just arm strength; you have to engage mula and uddiyana bandhas. These bandhas help us lift and stay into balances and inversions.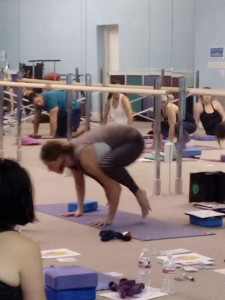 Over the course of the workshop, Lady Yoga led the group of about 20-25 people, half of whom were also teachers like me, through Crow, Side Crow, Baby Crow, Running Man, Flying Pigeon, Eight Angle (which I could not get to save my life) and the most challenging for me, Visvamtrasana.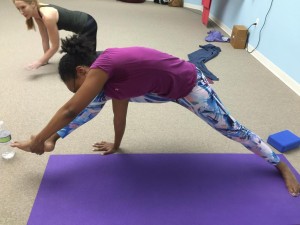 Not since training have I been so challenged in my practice, and I loved every moment. I will be attending more yoga workshops, focusing on both the asana (physical practice) and philosophy. Keep up with what workshops I'll be attending in my quest for knowledge by following me on Twitter: @veleisap.
And if the workshop wasn't enough, I decided to hop on the Grit Fitness X Luke's Locker kickoff challenge. Whew, y'all, lemme tell you: the ladies of Grit Fitness are amazing. In an hour, we went through a dance cardio, kickboxing and glute workout and I felt (and still feel) all of it. Check out their latest fun challenge: #LUKESGRIT, plus my sweaty selfie with Annabelle, who kept me moving throughout class!