True confessions: I've never been camping. I'm from Houston, I am a true-blue city girl and I hate bugs. Camping has never been one of the activities I feel like I missed out on and I haven't had the opportunity in my adulthood.
Thankfully, I roll with an adventurous group called Dallas Fitness Ambassadors, and when they let me know they were planning a glamping trip, I jumped right on it. If you're unfamiliar with the concept of glamping, it's glamour + camping. Think fireside wine glasses, luxurious rugs and all plaid everything.
In the true sense of Texas being a state of many landscapes, I didn't have to go far to get the camping experience. I drove 45 minutes north of Dallas to Whitewright, turned off the freeway and a left and a right later, I'd made it to Best Day Ever Ranch. The Ranch includes event space in the form of a barn – perfect for the bride and groom who want a southern touch – and cabins for rent. Our less structured living space was down by Dream Lake.

Though we were only there for a day and a half, I feel like we had all of the adventures. I'm so happy I went with semi-professional campers, who knew that we needed all of the food. Seriously, we had a spread that rivaled the craft services table at a Hollywood movie set, all courtesy of Sprouts Farmer's Market.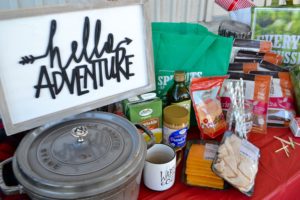 The first night, we indulged in fireside chili made by the lovely Chandler of The H is For and, of course, wine.
Tip for first time campers: It gets COLD, not chilly but actually cold, once the sun goes down. I was not adequately prepared for spending time outdoors after dusk. Bring your thermals, a hat, boots and extra blankets/comforters or an insulated sleeping bag.
The next day arrived bright and lovely, with steam coming off the lake. We did have some nighttime visitors, which brings me to my next tip: make sure you clean up your camp site well before turning in for the night. I was not brave enough to open our tent to see what kind of nocturnal creatures visited us. I'm fairly sure they were disappointed because we did not leave food or drink out for them to scavenge.
After the breakfast of champions – tacos and mimosas – we decided to go explore the Ranch grounds.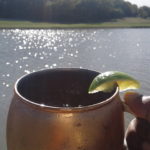 I like goats and other animals from afar, so I stayed outside the pen and watched the other ladies play petting zoo.
From there, we went to see the event barn, which was being set up for a later wedding, and the garden with a gazeebo that is the DIY dream of many a person. We sent good vibes to the couple getting married later that day and set back toward our camping grounds.
We ended our full day with sangria, fajitas and more wine and tucked in for the night.
Early the next morning, we packed up our various vehicles and bid goodbye to Best Day Ever Ranch. It's good to know that if I ever need a quick getaway with the girls, I don't have to go far to find paradise. Between the quiet nights under a star-filled sky and the lack of cell phone reception, which makes you slow down and have deeper conversations with those around you, I really enjoyed my first camping experience.
Thank you to The Best Day Ever Ranch and Sprouts for their sponsorship of our adventures.
All photos below are courtesy of Ashley of Fit Girl in Flight, who worked with the best artistic directors, Chandler and Stephanie Suire.