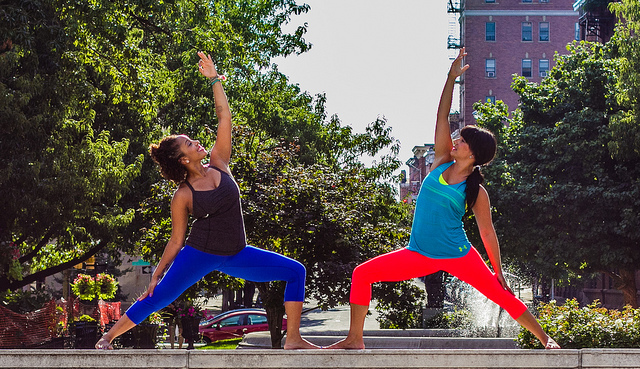 With one week until I begin the 200-hour teacher training, I've been reflecting on how I will use my practice to make a difference. Should I volunteer to teach? Will I join a smaller studio to lead classes on evenings and weekends? In all my thinking, I must have put something out in the universe. And the universe is telling me that I need to be visible, whatever I do.
Last month, The Atlantic posted a story that was sure to get my click: "Why Your Yoga Class Is So White." Though the studio I attend can boast a slightly more culturally and age diverse group of practitioners, I don't think it would be too much of a stretch to state that when most people think of yoga, they picture a skinny, ponytailed white woman, able to bend and stretch into impossible positions. A 2012 Yoga Journal study cited in the article states that more than four-fifths of Americans yogis are white. The article goes on to talk about studios and instructors who are working to change this percentage by offering low-cost yoga in underserved communities. As a product of an underserved community (shout out to Southwest Houston), the reference to the role religiosity plays as the preferred method to improve health (greater than meditation or yoga) resounds with me. More often than not, we attended Bible study, worship services or another activity at the church as frequently as I now attend yoga classes. While I would not say that yoga practice has replaced my religious practice, I do find similarities between the two in the repetition of mantras and routines, charismatic leadership and group assembly.
Much has been made of Black American women and lack of prioritization of physical fitness. According to the Office on Women's Health in the Department of Health and Human Services, 4 of 5 Black women are overweight or obese. As the daughter of a mother who struggled with her weight and imparted the need for wellness to me and my sister from an early age, I've managed to avoid any weight-related issues, in part due to my yoga practice. By being visible and discussing how yoga supplements my weight and aerobic training, I'm setting an example to my niece and other young women.
The second article to discuss the lack of diversity in yoga came from Forbes. I'd summarize this as the discussion of the "Columbising" of yoga by the West, first the British and then Americans. The separation of the physical practice from the mental practice of meditation is not a facet of yoga that I'd ever considered before. However, after recalling some of the obviously competitive people I've had the pleasure of being next to in class, this makes sense. The focus on a wholistic yoga practice, one which includes the exploration of the history and principles of the practice, understanding the body and exploring mediation, is part of the reason why I signed up for the teacher training.
I write all this to say that I recall the feeling of being the only person in my class, and how it required me to get outside of my comfort zone and where I thought I belonged. That sense of not belonging gave way to a more peaceful, less stressed version of myself as I deepened my practice. Becoming an instructor allows me to be part of breaking the mental and visual barrier, one that keeps men and women from discovering the healing properties of yoga. This will be on my mind as I take my first step on the mat as a student next week, and will guide me for the subsequent eight weeks.
For some inspiration, check out the following social accounts: Black Yoga Superstars and Hippie Heathen.
Photo courtesy of Dave Rosenblum via Flickr