With less than three weeks left until the "wedding of the century" (disclaimer: this will not be the wedding of the century to anyone aside from me and the future husband), I've decided to get on an officially unofficial game plan for my fitness. Aside from teaching 4-5 times per week, I've kept a semi-regular lifting schedule for the past few months. However, office snacks and a generally relaxed outlook on food had me up a few pounds a few weeks ago. I don't advocate crash dieting or intense exercise regimens that simply won't hold up beyond two weeks, so I am now working with my trainer of choice, my future husband!
When he told me that the plan involved sprint work two times a week, I tried to remember the last time I bought a strong sports bra…I'm still trying to recall. Thankfully, I got the best opportunity for someone in need of a well-fitting sports bra right in time with an invitation from Title Nine to attend the preview of their 2015 Bra Fit Fest.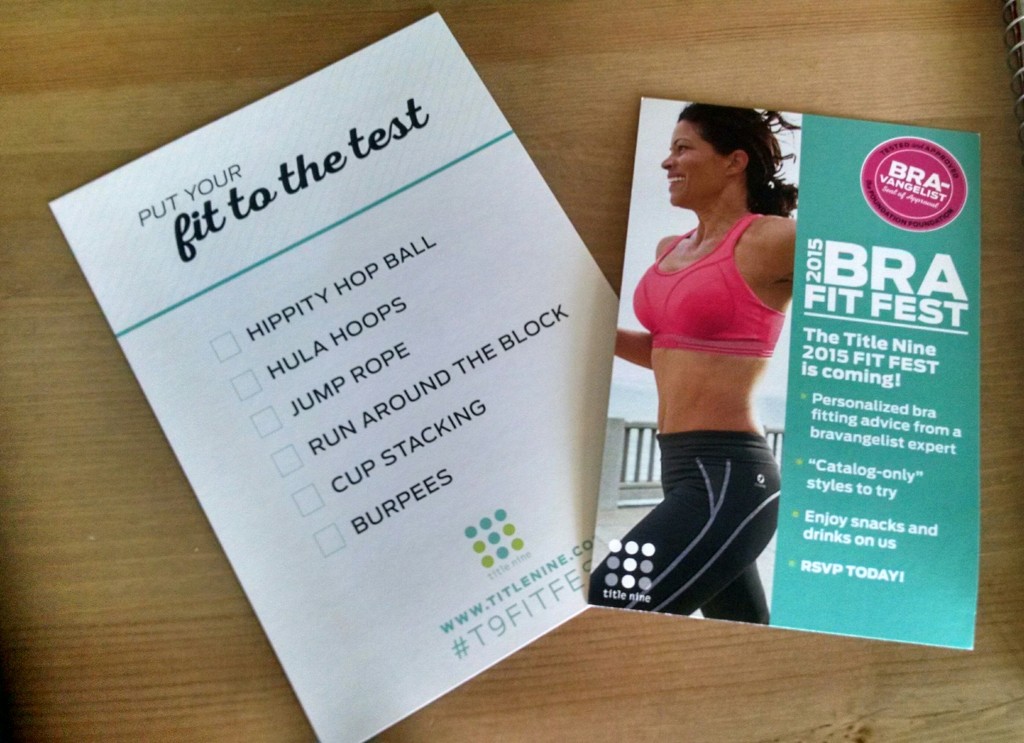 According to Title Nine, "the lack of a good sports bra is often the biggest deterrent to regular exercise." As someone who usually ends up grabbing the nearest medium, I can attest that a properly fitted bra, one that goes by cup size and not S-M-L-XL, would likely provide more support for the girls. Upon walking into the Title Nine store, I saw a wall of bras and knew I'd come to the right place for the bra that would get me through a track workout. Crissie and Andrea, my "bravangelists" (expert bra fit specialists) at the McKinney Avenue location, schooled me the different types of fit Title Nine offers, along with cute color patterns and bras that actually look…sexy.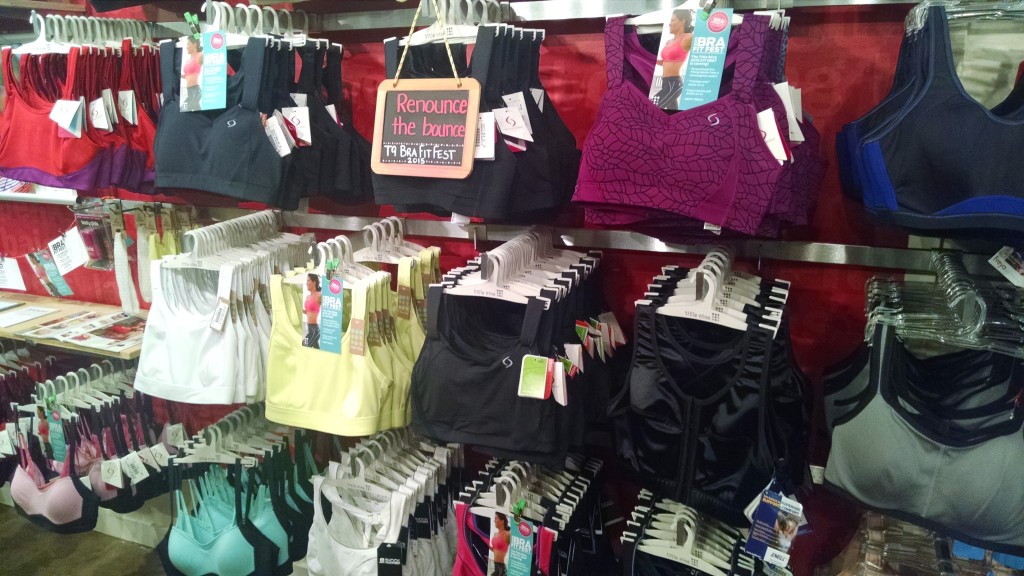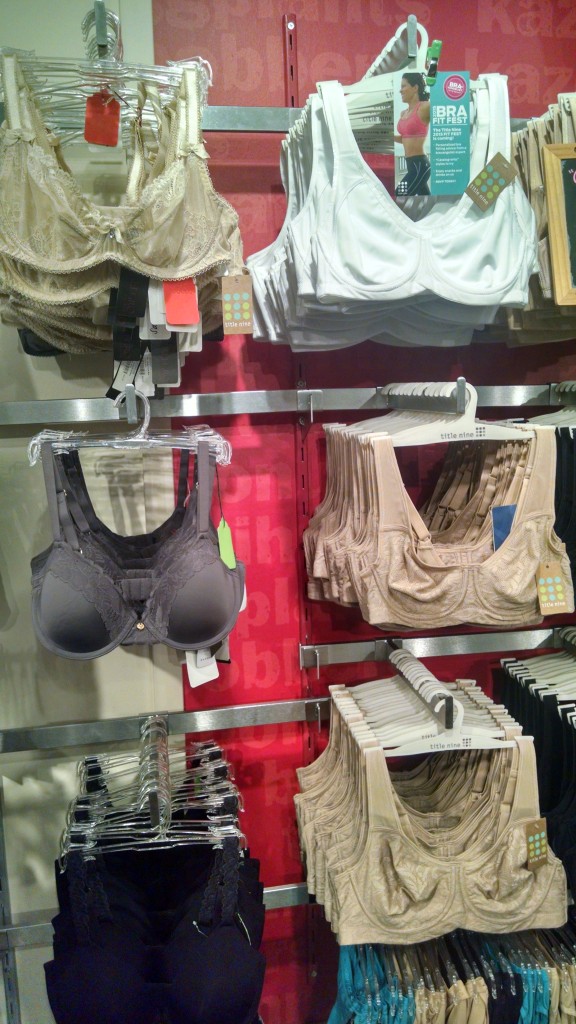 These bras are called "beautility," a combination of beautiful and utilitarian. Love this concept! Bras can be measured in cup size and "barbells," meaning the amount of support given for activities that range from walking to light jogging and beyond to cross fit and running.
Next, it was my turn to take a spin in the dressing room. My eye immediately went to the Seismic Underwire bra, due to the slight shimmer and the perforations that I knew would allow my skin to breathe. Plus, with underwire and individual cups, it would give me enough support for both yoga and jogging. Next I tried Tech Athena bra. The neck came up slightly higher than I was used to but I found that I liked it. With wide shoulder and chest bands, the bra provided enough uplift that I felt like I could run, box jump and jump rope with the best of them.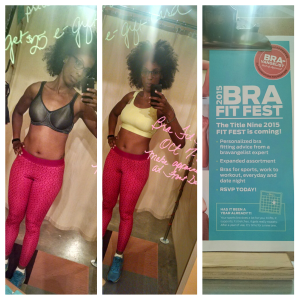 Fun break: I did the "hippity hop ball" fit test for fun. I refuse to be embarrassed about this video!
I ended up going with the Booby Trap bra for a few reasons.
Out of this world support – This is saying a lot, considering all of the bras I tried on would pass the Title Nine Fit Test. The Booby Trap though…ridiculously good.
Straps that adjust in the front – There is nothing more annoying as a woman to need to adjust your straps. You take off one side adjust, put it back on and if it's not right, you shift it back off your shoulder again, inching it up and down until it's just right. No need for that with the Booby Trap bra. Plus, the adjusters are velcro!
I left the store with the Booby Trap bra on and headed right to my workout at SMU's track. It held up to my 80-, 50- and 30-yard sprints without digging into my back or shoulders like other bras can do. Suffice it to say, I'm a fan!
While the average American woman wears a 36C bra, the vast majority of sports bras are built for A and B-cup women. The fact that Title Nine has bras that go from 32AA to 40EEE shows me that they honor the range of sizes for women. Plus, with a 360 day return policy (365 minus the five days a year their stores are closed), you can try a few different ways to test your bra before deciding that it's absolutely for you.
Title Nine Fit Fest in Dallas
In addition to entering the contest, sign up for Title Nine Dallas's Fit Fest on Wednesday, October 7 and Thursday, October 8. RSVP at http://bit.ly/T9Dallas_fitfest.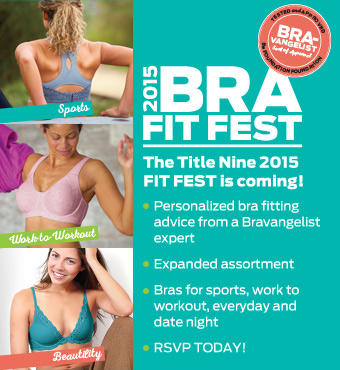 Title Nine Giveaway
I'm so excited about my experience with Title Nine that I'm working with them to give away a sports bra to a lucky reader! All you have to do is send a tweet, tagging me (@VeleisaP) and Title Nine (@TitleNine) and use the #T9FitFest hashtag. Tell us what kinds of activities your sports bra needs to handle, how excited you are to see the range of sizes or even about the last time you were sized for a sports bra. The winner will receive a Title Nine sports bra and a free personalized fitting from a bravangelist. I'll pick a winner on Sunday, Oct. 11.
Rules: Must be 18 years of age and a U.S. resident to win. No spam accounts or giveaway only accounts are allowed, only valid personal/business accounts. Must follow all entry requirements. Winner will be notified via email and have 24 hours to respond before a new winner is chosen in their place. This promotion is in no way sponsored, endorsed or administered by, or associated with, Facebook, Instagram or Twitter.