Recently, I had a thought: if I took an informal poll of my fellow fitness teachers or the trainer members of the Dallas Fitness Ambassadors, probably 99 percent would say that as their teaching and training increased, their focus on their own growth went down. An inverse and perverse relationship, if you will. Speaking for myself, as I've invested time in reading, learning and teaching others, my training schedule has suffered. I almost have to force myself to dedicate an hour to getting on the mat, not to creating a new flow or reading the latest yoga news.
As a student, you have seemingly unlimited time to learn, explore and jump around to different classes and studios. Now that I teach, I have a home studio and getting to other locations to experience other instructors often takes a back seat to meeting and greeting with the teachers and students at my own location.
It's easy for me to recognize when I need to switch it up and revert back to being a student. Not only do I physically feel the need for a return to a challenge, but my mind clues me in that I'm not growing. My fitness routine, whether it's yoga or weight training or my "unbridal bridal" regimen of sprint work on the track, connects me to an inner energy source and allows me to be a better teacher. I sleep better, digest my food easier and generally am a happier person when I'm challenging my body and mind through fitness.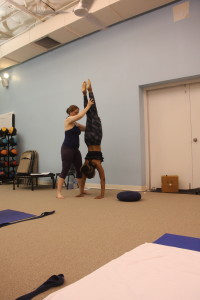 http://www.dallasfitnessambassadors.com/
Returning to the act of being a student is a humbling experience, and often, as teachers, we need a reminder that there is no end to the practice of learning. We can all be taught something new, whether we are a beginning instructor or a seasoned veteran trainer. When we don't expand our minds through continued education, what we put out to our students can become stagnant or boring. And really, who wants to be a boring fitness leader?
I vow anew to give time back to myself, to explore not only different instructors at my own studio but with other yoga studios. After getting my butt kicked at Surf City Fitness last month, I'm excited to try new experiences and see how it shapes my teaching principles. I'm a big proponent of lifting, and lifting heavy, and I've seen the improvements to my time on the mat due to pumping iron. Thankfully, my fiance and I belong to the same gym, and he loves kicking my tail in the weight room, telling me to lift heavier, move faster and challenge myself. I'm excited about my renewed focus; maybe you'll join me?
If you're an instructor, have you found that your own fitness journey has stalled as you've taken on clients/started teaching?
If so, how do you plan on jump-starting it again to ensure that not only are you satisfied with your progress but you're giving your students the best knowledge and experience based on what you learn?
Shout out in the comments, or message me on Twitter (@VeleisaP) or Instagram (@LeisaWithAnE). Looking forward to hearing from you!