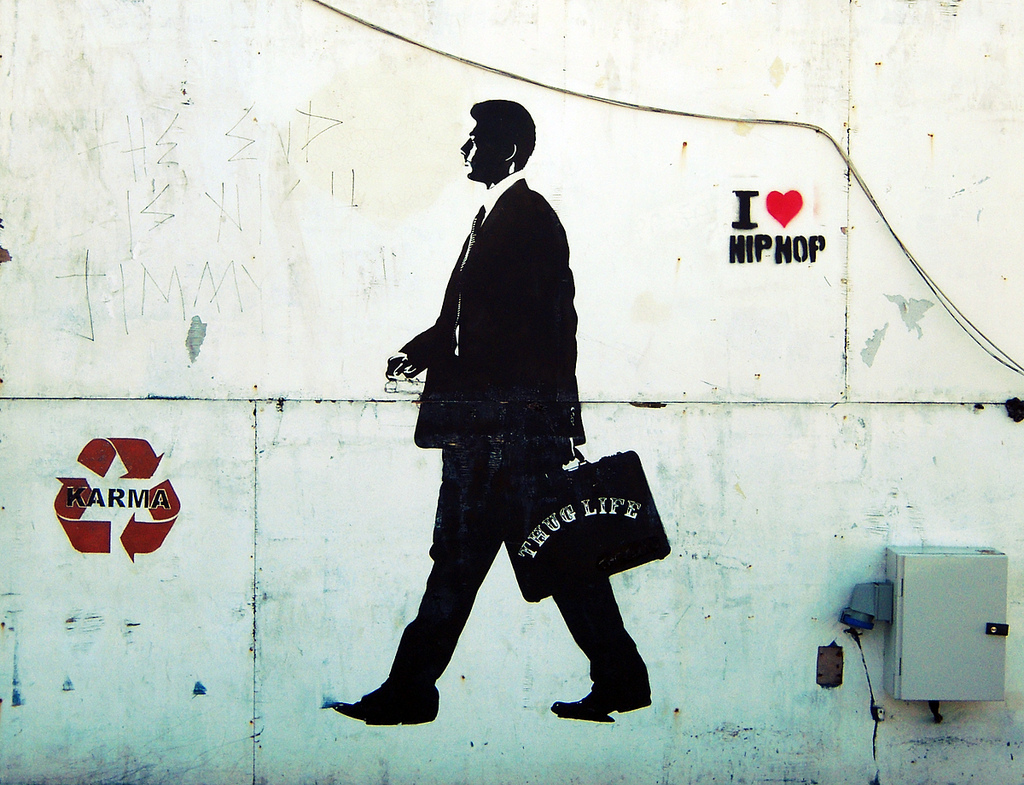 How I carry my thug (via vermegrigio on Flickr)
I fully admit to being inordinately amused by the exploits of most rappers, especially in the antics and lifestyle outlined in their lyrics. I figure if an artist is truly about their business, they're likely are not doing all of the extra activities they list. There are only so many hours in the day.
So, in the spirit of my ratchet music appreciation, and thinking of the conversation I had with one of my coaches, Dawn, I've decided that incorporating some aspects of the rapper lifestyle may not be a bad thing.
Fake It Until You Make It
Going back to my earlier statement, rappers are some of the bombastic creative people in the nation. A local star who still lives at home with his mother, works the stock room at Best Buy and records in his third cousin's basement will have you believe he was just signed to the most well-known label with a million-dollar advance and has the hottest chick the game on his arm at all times. To use an overused term, it's "swag." Applying this to me, I have to be more prepared to talk about my ambitions for freelance work. No one wants to hear the hem and haw of tentatively describing aspirations for excellence. Claim it, declare it, own it. Rappers have this spirit in spades, even the ones who record in their closets. Why not adopt that in your business?
Roll With a Supportive Crew
What performer do you know that goes on stage with less than one hype man? I'll wait…Exactly. Having a passel means rappers are never alone, bored, hungry and without entertainment. And they always have a fall guy, who doesn't want that! For my needs, my crew  consists of my sorority sisters, family, my career coaches, former supervisors and various social media accounts for inspiration, laughs and thought-provoking commentary. Since I tend to avoid any kind of legal snafus, I never have to ask any of them to take the rap for me, which I'm sure they appreciate. Instead, this assorted group provides me with feedback and guidance, as well as accountability to do even better than I think I can.
Make An Investment
As Jay-Z said years ago in a line that epitomizes the rap life mentality, "Money ain't a thang." Cars, jewelry, houses – but I mean, who really looks at the price tag (thanks for that one, Nicki Minaj). Since it's all about appearances, and I don't have to impress the masses, my investments are a bit different. For example, one of the first things I did upon realizing that I have to build my brand outside of any company affiliation was purchase business cards and rent a P.O. box. Though my initial reaction was "Why am I spending money when I don't have any coming in?" I knew it was the right thing to do to show that I was serious about my aspirations. Now when I go to networking events, I have my own card to hand out. And should I need to receive payments or contracts, I can have them sent to a location that is independent of my home address. As I go even further down the road of independent ownership of my work, I know additional investments will be necessary, though likely not dipped in gold like a Jesus piece. Mentally, this is part of the process for which I have to prepare myself (and my bank account). Thankfully, my momma didn't raise a fool when it comes to saving and spending wisely.
So, that's how I plan to adopt a limited scope of the rap star lifestyle. How are you embracing your inner rock and roll star: what would you add to this list?
Also, just for fun: my 90s rap name is Smoove V Tha Magnificent Thief. I will take that, expect T-shirts soon!