In my plantbased life, I've been attuned to the importance of consuming whole foods, products with ingredients of I can recognize and pronounce, and beauty products that contain fewer chemicals. While on a Target run with my hilarious friend, Jerica of Jerica Says, we happened down the feminine care aisle and came across the "specialty" brand section. I put specialty in quotations because upon closer inspection, I saw that what these brands clued into is that consumers today want to know what's in their product, and that I was woefully ignorant.
The brand that caught my eye was The Honey Pot Company, with their great tagline: Made by humans with vaginas for humans with vaginas. How can you ignore that line?! I picked up the package and soon began to question everything. As a woman, how could I be so ill-informed of the processing of the care products I'd come to know? With my interest piqued, I reached out to The Honey Pot to learn more. It turns out their team was putting together a brand ambassador program and I was invited to join.
Help promote a female-owned, vegan feminine care company? It wasn't even a question for me!
What I love about the Honey Pot Company is that it is a subscription service. What's more monthly than your monthly, amiright? Once I agreed to be an ambassador, I received my introductory package containing the Sensitive Bundle and the Regular Herbal Pads to familiarize myself with their products.
My Review: The Honey Pot Company
The Sensitive Bundle
I'm a sucker for great packaging, and The Honey Pot Company does a great job with their design. The baby-blue Sensitive Bundle box has adorable illustrations and quotes. Inside I found the Sensitive Wash and Sensitive Wipes, both which are prominently described as the alternative to "toxic, chemical-laden, fragrance-filled feminine washes and wipes."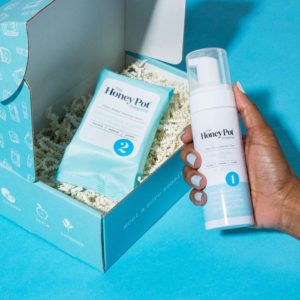 The wash has little to no scent, which I can tell you is quite unlike most feminine products on the market. I've actually avoided most scented soaps and lotions of all kinds because I tend to sneeze at the overwhelming aroma. The wipes, which can be used on your entire body, were my quick solution for post-yoga sweat so I was presentable enough on the drive home to take a full shower.
Regular Herbal Pads
Where the Sensitive bundle eschewed scents, the pads are infused with herbs, lending them a fresh scent. The pad is also "manufactured with chlorine and pesticide free cotton." Of the herbs, which include rose, lavender, aloe and mint, it was the mint that gave me a bit of a surprise. The brand tells customers that mint is supposed to help alleviate menstrual cramps, but if you have sensitivities to mint on your skin, you may want to skip these and stick to your regular, non-herbal products.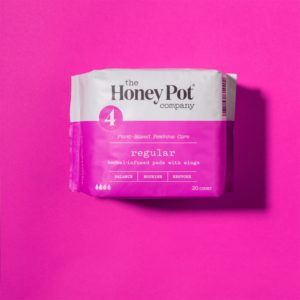 HoneyBeNatural Magazine Event sponsored by The Honey Pot Company
As an ambassador, I had the chance to attend an event The Honey Pot Company sponsored here in Dallas. Eat for Your Yoni was presented by HoneyBeNatural magazine and featured a vegan chef who showed attendees how to make plantbased smoothie, snacks and a light meal. I loved being a room with other healthy-minded women; check out the recap on HoneyBeNatural magazine's website.
---
Excited and ready to try The Honey Pot Company?
As a reader of my blog, and for those who are looking to incorporate plantbased living to your care products, I invite you to try out The Honey Pot Company. Order as a monthly subscriber or try out a single product; I don't think you'll be disappointed in anything you receive from the company. Not sure if you should start with Normal, Sensitive or Mommy-to-be? Start with their quiz.
PLUS: The Honey Pot Company launched an Indiegogo campaign in order to crowd fund the next stage of plantbased feminine care: organic cotton tampons. Support their cause today at the level you can.
As a Honey Pot Wellness ambassador, I receive a small commission on your order if you purchase. I would SO appreciate you using my affiliate link if you do buy.