"Your vibe attracts your tribe."

"What you seek is seeking you." – Rumi

"When the student is ready, the teacher will appear."
The end of 2016 was a rocky time for me. Changes, necessary changes, were happening. While I recognized the utility of these developments, they still didn't feel good. I have been working on feeling comfortable with discomfort, as that is usually a sign that circumstances are changing, but it's a challenge. In 2016, part of my self-development also included shooting my shot: inviting people to coffee, lunch or drinks and saying "I need your help." Vulnerability can be scary, but I found that once people know they can help you, they're more than willing to do so.
As such, I started to notice my network expanding as friends made introductions, acquaintances became advisors and I became comfortable in making requests and subsequently helping to connect others as friends reciprocated with their own needs.
In January of the new year, I am now starting to see the benefits from the connections I made in 2016. The statement that you are the average of the five people you spend the most time with is true. As you become the least smart person in the room, you grow and expand your knowledge. Thankfully, this notion applies to both my professional life and my fitness life, as I connect with yoga friends for two events this month!
Feb. 18 – Soul Sistas Yoga Kickoff
Last year, a friend said she looked around and realized she knew several black female yoga teachers and enthusiast, so she brought us together and Soul Sistas Yoga was formed. J, Kawanah, Tam and I are all dedicated to creating sacred spaces for women of color to practice yoga and connect breath, movement and energy.
I'll be leading two yoga sessions at our debut event on Feb. 18, 12:30 – 3:30 p.m. at the SunstoneFIT Mockingbird Plaza (5400 E. Mockingbird Lane).
Session A – Beginners' Yoga: 12:30 PM – 1:30 PM
Mental Health and Meditation Workshop: 1:45 PM – 2:15 PM
Session B – All Levels Yoga: 2:30 PM – 3:30 PM
Tickets range from $15 for one class to $40 for the entire day of learning. Get your ticket and then get one for a friend who keeps promising to come to yoga with you but never has made a class.
Feb. 25 – Athleta Namaste After the 5K (Leap of Faith Motivational Run and Yoga)
I'm all about this event because it reminds me of Wanderlust 108, which I've been to twice and will be attending this year again on April 15.
I can manage 3.2 miles of jogging and who doesn't deserve some good stretching and breathing after accomplishing that, right? When Kory, the event organizer who I met at Wanderlust last year, asked me to teach the Namaste After the 5K yoga session, I freaked a bit. I had to remind myself that my vibe, what I'd been cultivating, was bringing me new opportunities. If I run from them, I'm not being true to myself.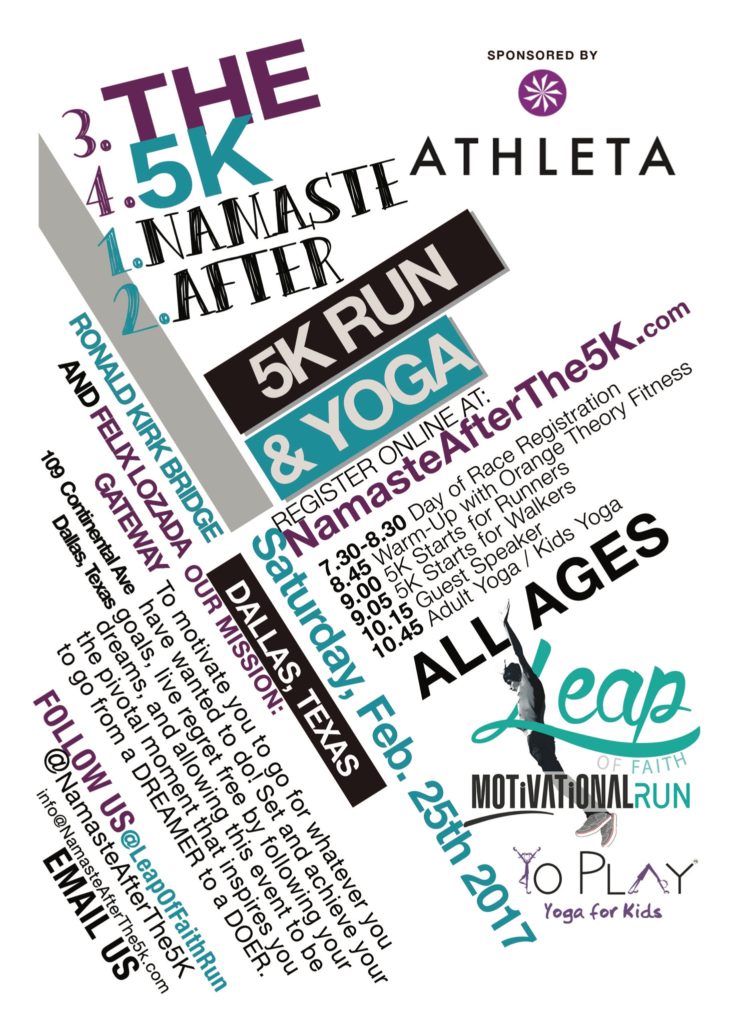 As the yoga teacher for Namaste After the 5K, that means I have to invite, you, your mom and your partner to come out to Ronald Kirk Bridge and Felix Lozada Gateway (Continental Avenue Bridge) on Feb. 25. The warm-up starts at 7:30 with Orangetheory Fitness and the 5K kicks off at 8:45 for runners and 9 a.m. for walkers. If you're coming for the yoga, that starts at 10:45 a.m. Get your ticket today!
---
These two events in February came because of the tribe I attracted, as well as saying yes, even to actions that were outside my comfort zone at the time. I'd love to know what you gained when what you were seeking found you because of your energy.